Twitter Feed
#FreeSpeakII was used during the Garth Brooks special, the first ever non-football event held at Notre Dame Stadium.

Read the full story here: https://t.co/UWAQXkfdR5

#NotreDame #GarthBrooks #Clearcom50 #FSII #wireless #communications #Intercom https://t.co/UWAQXkfdR5
Celebrating our 50th Anniversary this past year has been very special. Now let's look forward and see what the next 50 will look like!
Read the full story here: https://t.co/30uZs8V2Zb
#clearcom50 #innovation #anniversary https://t.co/30uZs8V2Zb
Clear-Com @ the 5th All Africa Music Awards (AFRIMA) Accra, Ghana. #megacyberplus #Clearcom50 #rodsandconesng https://t.co/sfMGAKYcCk
#Google #connectliveabuja2018 #clearcom50 #megacyberplus https://t.co/8QJjb0R3J2
For more details on the power of @clearcomsystem solutions, contact me Bubble Agency #clearcommunications #clearcom50 https://t.co/2ADBPypPMC
"We need to have clear departmental communication as well as global coordination to be able to manage the last-minute changes that can occur with our show.."

Read the full story here: https://t.co/Nm6aKo7TyO

#clearcom50 #Autograph... https://t.co/Nm6aKo7TyO
Successful day at the #VMI show today in CA! What show will you be at next? Let us know! #clearcom50
Twitter feed video.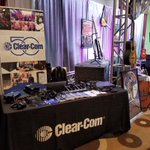 This past weekend we held our first open house for friends and family, celebrating our move and new home to Carlsbad, California! #HME #clearcom50 — in Carlsbad, CA https://t.co/ahBb31y0VT
Load More...
Facebook Feed
Congratulations to our winner for the month of November! @tiernanturner thank you for sharing your post with us! Stay tuned, we will be announcing the #winner for the month of December soon! Thank you for your continued #support! #clearcom50 ... See MoreSee Less
Posing like champions! We love it!!
Load more